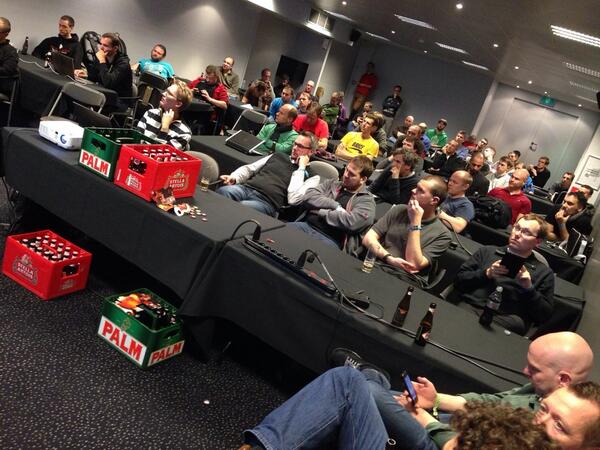 For yet another year (4th?) I hosted at
Devoxx
the
WildFly Community BOF
, one of our regular
rendezvous
with the JBoss community. The Wednesday 8pm slot proved very convenient and the room was full of old and new JBoss users and a good number of JBoss people/developers attending Devoxx. I was also fortunate to have
Arun Gupta
in the BOF, a recent addition to the Red Hat/JBoss family who was quick to field answers to various EE7 questions that came up during the session.
To start the discussion I went through a few slides providing
an update on WildFly v8
which is currently in Beta, and you can download it from
here
. WildFly 8 is now undergoing the last stages of completing the EE7 TCK certification effort so we are not far from a CR release. This is a very good time to download the Beta release and kick the tires to help us identify and fix any issues before the Final release goes out.
WildFly 8 brings in a number of interesting new features, including:
Full Java EE7 support
A new fast Web Server, called Undertow
Reduced port usage
Patching Infrastructure
Audit Logging
Role Based Administration
You can learn more about those features by taking a look at the latest
recorded webinar by Jason Greene and Stuart Douglas
.
Talking about new features I was pleasantly surprised by the input we've got during the BOF, which contrary to other years it wasn't that much! Meaning that we are now at a point were we have most major areas of functionality covered and we can start looking at the details or the more advanced use cases. So despite the new name, WildFly is in fact quite mature, carrying along a JBoss history of 14 years.
On the other hand, I was not surprised at all by the huge interest I've seen at Devoxx by Glassfish users for moving over to
WildFly
and
JBoss EAP
, after the announcement by Oracle earlier this month that
they are stopping commercial support for Glassfish
. It's kind of sad for us to loose a very much respected opponent in the opensource space, but it was bound to happen at some point. It's hard to have to deal with two competing products in the same company.
Besides the BOF, I should also mention that I held a mini session at the JBoss booth, a quick introduction to Role-Based Administration (RBAC) in WildFly. Brian Stansberry gives some information about RBAC in the 2nd installment of the WildFly Deep Dive webinar series that you can watch recorded
here
.
Finally, I would like to take the opportunity and thank everyone that participated in my sessions. Your suggestions are taken very seriously and they are often used to change our priorities and shape our roadmaps.
Until the next time!
/
Dimitris